Chopard Mille Miglia watch is truly an iconic sports watch and Chopard has been a sponsor of the race for over 20 years now.  The 24 original Mille Miglia races took place in Italy between 1927 and 1957.  The race was eventually banned in 1957 after the fatal crash of a 4.2-lire Ferrari that took the lives of the Spanish driver Alfonso de Portago, his co-driver/navigator Edmund Nelson, and thirteen spectators, at the village of Guidizzolo.  The event was revived in 1982 as a road rally event which originates in Brescia.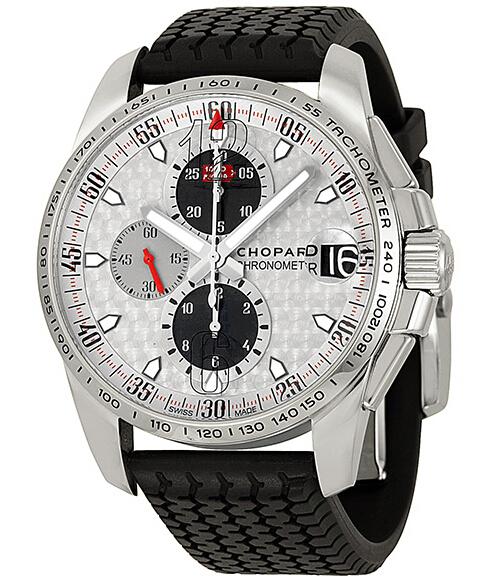 The replica Chopard Mille Miglia Gran Turismo XL Chrono watch over all is 44mm case size and comes on a Dunlop rubber bracelet. The bracelet is a quick deployment clasp that is easy to use.
This watch has a 46 hour power reserve and a water resistance of 50m or 165 feet. The movement is decorated just right for this sports watch not over the top! Along with being beautifully displayed thru a sapphire crystal.
The Dial is set off beautifully on this watch with the red induces and large numbers at the 12 and 6 positions. The date cyclops is a first for me with a reverse cyclops that is on the inside of the sapphire crystal. In addition I held the watch up to a standard house light for 3 minutes and here was the result: The watch having a car theme is set off beautifully by a Dunlop rubber band that is very durable and designed and quite comfortable.
More Cheap Replica Watches.