The replica Daniel Wellington Classic Bristol watch with a durable, classy leather strap. The brown strap feels very comfortable on your wrist. Like any piece of leather, a few bends and turns help break in the strap and fine tune it to your wrist. It's stitched with the same colour stitching as the rest of the strap, which is my only gripe with the strap. Perhaps white stitching wouldn't go with the rose gold case colouring, but I think it would look magical with the silver colour. This gripe aside, the Classic Bristol leather strap is simple and well executed.
The strap are easily removable and can be switched quickly with other Daniel Wellington straps. Daniel Wellington sells different colours of leather straps along with less expensive nylon straps. The Classic Glasgow nylon strap is a favourite of mine and I'm looking forward to adding this to my collection in the future.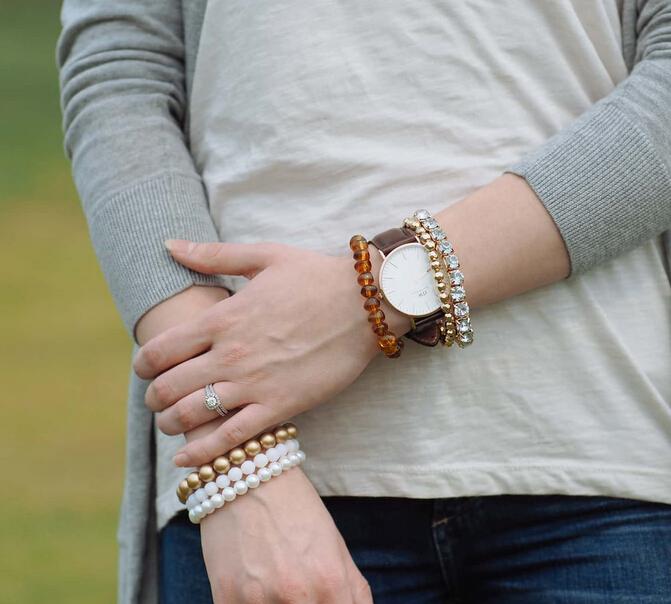 Daniel Wellington Classic Bristol watch in two colours: rose gold and silver. I've always felt rose gold is more feminine, but I've also had an affinity for rose gold. The colour reminds me more of a polished copper than it does of a feminine pink, and the Classic Bristol's colour rendition tends towards a light copper more so than pink. Regardless, rose gold has yet to not fit into any sense of style I may have and I'd be surprised if the silver model couldn't boast the same. In whichever colour you like, the Classic Bristol looks at home on your wrist.
The rose gold hour hand extends about two-thirds the distance to the watch's bezel and the minute hand extends about 95% of the way to the bezel. There is no second hand, nor are there any hourly numbers skewing the watch face. The only bit of text you'll find is the backwards DW moniker, which I have an incredibly hard time not reading as "WD" instead.
The crown is the watch's weakest link. It's difficult to pull out when changing the time, and the overall look of the crown — to me — doesn't fit in with the rest of the watch's design. 40mm in diameter and a mere 6mm thick. It's the right size for a one-size-fits-all, fits-any-occasion, perfect-for-either-sex sort of watch. It's neither too big on your wrist to be uncomfortable, nor is too small to not be seen.
The Japanese quartz movement may cause a stir amongst watch connoisseurs, but I don't see any issues in daily use. The watch tells the time well and doesn't slowly change over time, and the lack of moving parts inside means this watch can be used during some physical activity as well.