This replica Rolex Datejust 116233 with fantastic bezel which due to the cut has a gen look and is not too thick as is common with DJ reps. It is worth noting also that although the colour of gold on these reps is generally good – this one is perfect when compared to my wife's gen Lady DJ. The crystal sits nice and high also which is good.
Dial is the non lumi markers which you find on mostly the 16623 but also comes on the 116233. Date is perfect – not too thick and the magnification is perfect. Also aligns centred in window. Colur of dial is also spot on – some of these champagne dials can be too copper like in colour.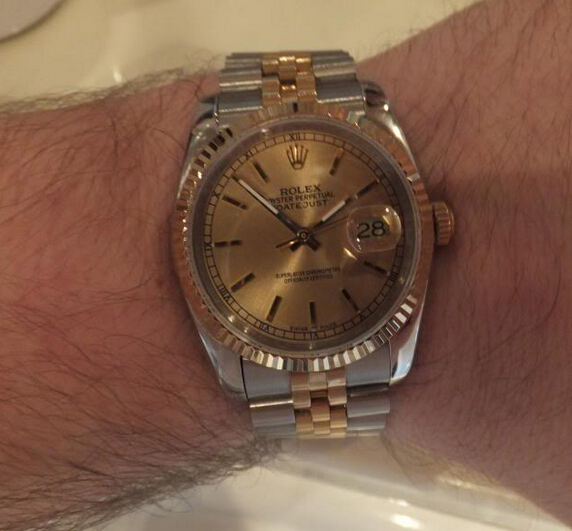 The bracelet makes this watch the most accurate DJ rep I have ever saw – not because the sides of the mid links are plated but because the bracelet SELs are the correct size and do not sit flush with the bottom of the lugs. This and the fact the lugs are the correct size makes the watch far more accurate than any other DJ rep. You can see what I mean for the pics.
The plating is perfect colour and of high quality on the mid links. The plating on the mid link sides are a little lighter and not as obvious. The fact you se gold when you look at the mid links sides means that the overall appearance of the watch becomes more accurate. Seeing bare metal is always a turn off on these watches. Although the plating on the sides isn't great, it is still there and it is rare to see that on these bracelets.